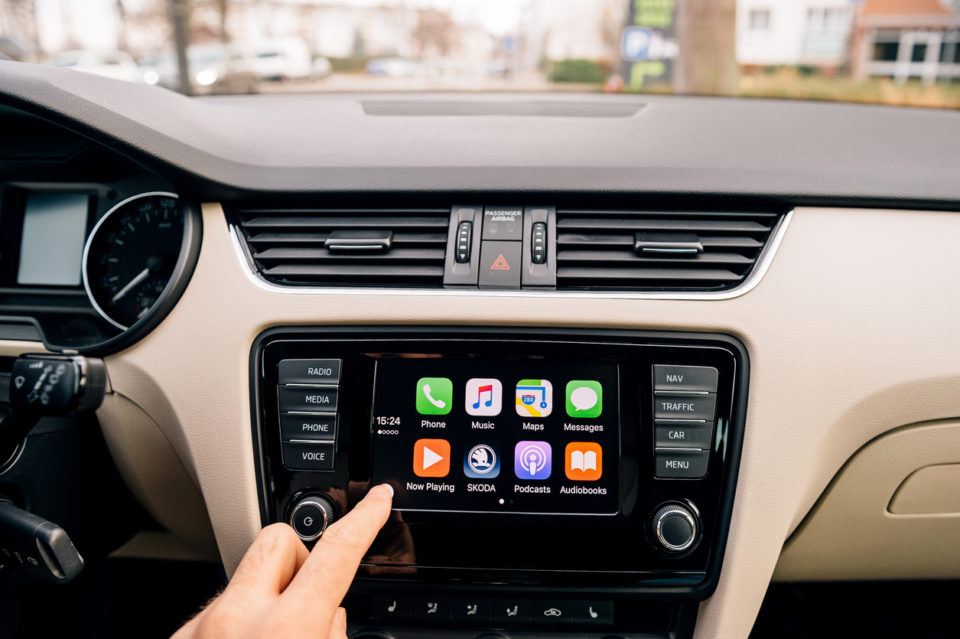 In our always on, always connected society, there are few automotive innovations that combine keeping you safe and keeping you entertained as well as Apple CarPlay® and Android Auto™. Keep reading to find out how to properly utilize these features.
What are Apple CarPlay® and Android Auto™?
Let's face it, even though we all know how dangerous it is, operating your phone while driving is hard to resist. How else are your going to shuffle your playlist? Apple CarPlay® and Android Auto™ help minimize the danger of accessing your phone while operating a vehicle. They provides drivers with a way to seamlessly integrate their mobile device with their vehicles infotainment system.  When you use Apple CarPlay® or Android Auto™ your phone connects to the vehicle, then its controls and selects apps are displayed on the infotainment screen. You'll then be able to access your phones navigation, maps, music applications, and send and receive calls.
How To Connect Your Device Using A Cord
If you have an Android or Apple device, you will be able to connect to your vehicle one of two ways – via Bluetooth or using a USB/ USB-C cord. If your vehicle isn't equipped for wireless connectivity, follow the instructions below to connect using your USB or USB-C cord.
The first thing you should do is unlock your device.
Next, plug your USB or USB-C cord into your vehicle. If you're using an Apple device make sure you are using an Apple Lightning cable.
Then, plug your unlocked phone into the opposite end of the cord, connecting the mobile device and your vehicle.
Your phone should prompt you to enable Apple CarPlay® or Android Auto™.
You might also like: MAKE A USED CAR FEEL NEW AGAIN
How To Connect Your Device Wirelessly
If your vehicle is equipped for wireless Apple CarPlay® and Android Auto, you can still use a USB or USB-C connection. However, you can also connect to your vehicle via Bluetooth. Follow the instructions below to get started.
Using Android Auto™
Download the Android Auto app.
Put your vehicle in park.
Place the Bluetooth function on your vehicle and your phone in pairing mode.
Tap the Android Auto icon in your vehicle.
Follow the system prompts to complete the setup.
Using Apple CarPlay®
If your vehicle supports both wireless and USB connection follow the corded instructions above first. Once your phone is connected, you will receive a prompt offering to connect you wirelessly in the future. If you're vehicle is only equipped for wireless connection, follow the instructions below.
Press and hold the voice command button on your steering wheel.
Turn your vehicles Bluetooth function on.
On your iPhone go to Settings> Wi-Fi, and make sure your Wi-Fi is turned on.
Tap the CarPlay network and turn on the Auto-Join feature.
Go to Settings> General> CarPlay, and select your vehicle.
If you're searching for a vehicle that has Apple CarPlay® and Android Auto™ capabilities, visit our dealership and speak to one of our representatives.